Remote access software
Free Remote Access Software Download
Remote access software can be a cost-effective way of enjoying a secure connection between networks and devices.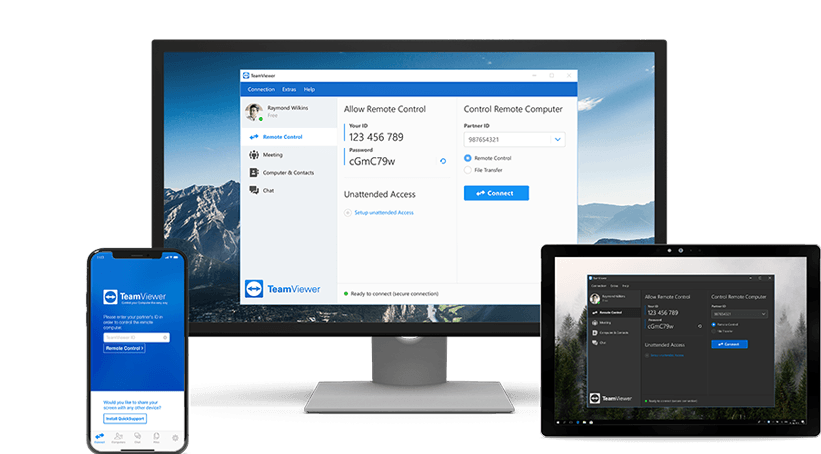 2.0+ Billion
40+ Million
> 500,00
> 200 Million
How Remote Access Software Works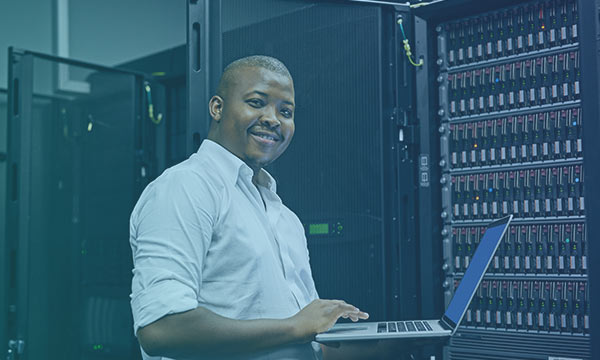 Remote access software allows local users to establish a connection with a remote device or network. The software can be installed directly onto a device and accessed over the internet at any time. Widely used by employees at large and medium-sized companies who run on a corporate network, remote access facilitates improved processes for IT support workers and enables more streamlined cooperation among teams working in different locations. Through the use of remote access software, important resources such as files, documents, and even software that is saved onto the company network can be accessed no matter where you are.
Remote access software works by creating a connection between the local and host devices. To establish a remote access connection, both machines must be powered on; they must have a good internet connection; and the software in question must be installed. A new session is possible once you run the remote software at both ends of the connection. An access code is generated that will be used to authenticate your login from the local device to the remote device. Once this is complete, the two machines are connected via a secure desktop sharing network that grants you full control over the remote device and all of its resources.
Introducing Free Remote Access Software Solutions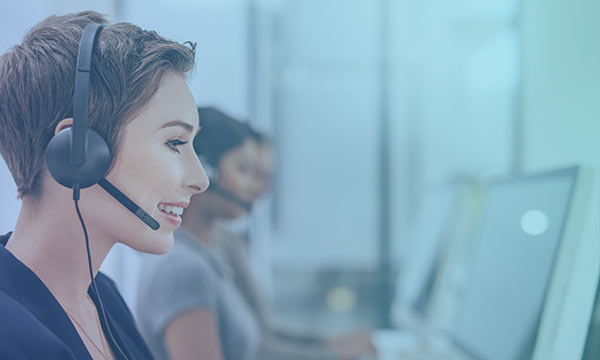 Remotely accessing PC resources is important for both small and large businesses. It gives employees instant access to important resources whenever they need them. Suitable for tech support staff, managed service providers, and anyone tasked with troubleshooting technical issues, remote desktop software can transform your IT maintenance process overnight. With features such as instant access to files, seamless resource sharing, and secure connections, remote access tools have never been simpler to use.
For small businesses looking for a cost-effective first step into the world of remote access solutions, or perhaps those interested in a trial phase first, there are of course free remote access software programs available. Additionally, with certain operating systems there are built-in remote access tools that provide a few basic features, even though they remain somewhat limited in comparison to those offered as paid software. The free remote access software solutions are a great way to determine which features your business requires most.
An Overview of Free Software Options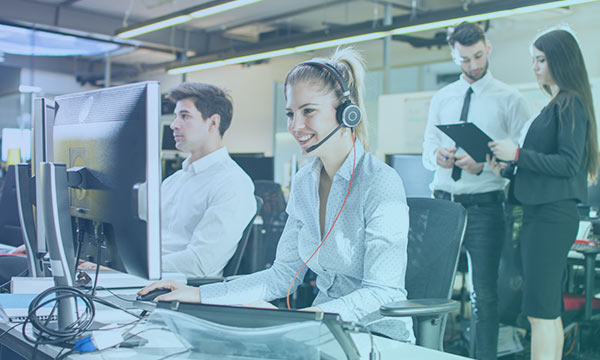 One of the most appealing factors of remote software is not just its cost effectiveness, but also its ease of use. Ideal for both first time users and IT novices alike, the software solutions provide users with the freedom to experiment with the tool before acquiring more comprehensive software and paying for the extended features.
Another option is open source or distribution-free remote software. This may be more suited to IT experts who seek to modify or customise the software themselves to best suit the needs and requirements of their businesses.
Alternatively, another option is to explore the built-in capabilities offered by certain operating systems, many of which include free remote access software and allow certain remote functions. Windows, for example, offers some intuitive remote desktop tools that enable IT support technicians to perform certain tasks remotely.
The tool itself is called Windows Remote Desktop and allows users to access system properties, reboot computers, view event logs, and manage Windows processes – no matter where they are located. While built-in remote access tools offer a number of helpful features, they are often limited in their cross-platform compatibility and security.
Free Remote Desktop Software
AeroAdmin
FREE and EASY remote desktop software! Set up a remote desktop connection within a few seconds!
No installation and configuration required.
Don't give access to unknown callers! AeroAdmin, Microsoft, your ISP or Bank will never call and ask access to your PC!
AeroAdmin is all-in-one software that allows full remote computer control including unattended access, simultaneous remote connections from and to a single computer, file transfer and the ability to connect to an unlimited number of endpoints (remote computers).
Remote computer control / Remote support
Instant remote desktop connection and control
Spontaneous customer tech support
Access to remote files
Remote office
Unattended remote access

On-line meetings / Webinars / Distance education
Interactive meetings
Online education and classes
Presentations
Online coworking and collaboration

Remote monitoring and control
Employee monitoring software
Parental control
Important data isolation
Stolen PC search and return
Why AeroAdmin?

Save your time and money
AeroAdmin is specially designed to simplify the remote computer connection proccess and limit it to a couple of clicks. You do not have to install or configure anything to get access to a remote PC. It is ready to go right out of the box. AeroAdmin makes taking control over remote computers or screen sharing as easy as phone call, even for non tech-savvy users. It is free for use, but premium licenses with extra features are available at very reasonable prices.
Get fully featured multi-task remote access software
AeroAdmin is a small executable file which can be stored on a USB or instantly downloaded from a website and launched on any computer. Despite the fact it's only
2Mb in size, it has full set of features for remote computer control, system administration, screen sharing, remote employee monitoring, parental control etc.
Be safe and secure
Do not worry about your confidential data and files. All remote sessions provided by AeroAdmin are totally encrypted. In combination with a powerful authentication system, you can be sure your privacy is thoroughly protected.
Key AeroAdmin features and advantages
— Free for home use and commercial use
— Easy, quick and efficient
— Multipurpose software solution
— Secure remote connections (AES+RSA encrypted)
— Branding and customization
— Session logs
— No installation and configuration required!
— Connects computers in different LAN, behind NAT
— Transparent for Firewalls
— File transfer
— Strong access control system (authentication by ID + password)
— Multi monitor support
— Remote reboot in safe mode
— Autoupdate
— Multilingual interface (15+ languages)
AeroAdmin provides user-friendly interface
Understandable and easy-to-use for professionals and non tech-savvy users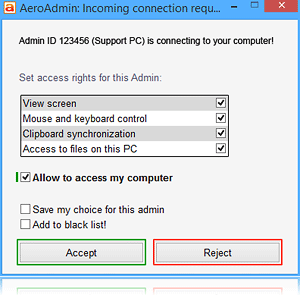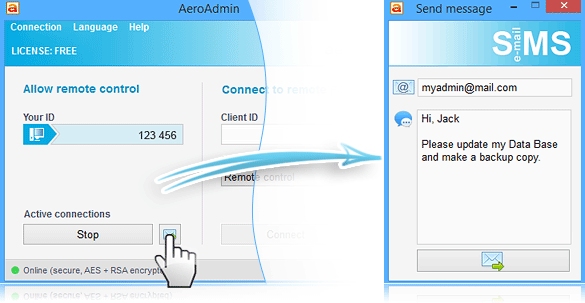 How remote desktop software works?
The term «remote desktop connection» means remote access to another PC via remote desktop software, like AeroAdmin. The software is run on both PCs and then a connection between them is established. Remote desktop software grabs a display image of the remote PC, processes it in a special optimized way and translates it to the local computer of an operator.
All keyboard and mouse signals are communicated from the operator to the client pc, and the latter interprets these signals as if they are being inputted right on this local pc by a person.
Before image and control signal data is sent to a remote PC and vice versa, a secure encrypted connection is set up, so that no third party will be able to decrypt and use it.
The Best Remote Access Software
How do you get from here to there when you need to work on a computer across town or on another continent? These remote access apps, the top performers in our testing, get the job done.
Our 6 Top Picks
RemotePC
TeamViewer
LogMeIn
GoToMyPC
VNC Connect
Splashtop Business Pro
How to Choose the Right System Utility
Who Needs Remote Access Software?
Ever been in a meeting in another company's office and realized that the PowerPoint presentation you were planning to dazzle them with is back at home on your computer? Or tried to help your parents, who live halfway across the country, figure out why their computer just won't open a file? These are exactly the scenarios that remote access utilities are made to handle.
Remote access apps let you either access your home or office computer from another location, or allow others to have access to some or all of your files, as if they were actually sitting in front of your PC instead of somewhere else entirely. Some are tailor-made for personal use, while others, with their complex security protocols and granular menus, are better suited for a more corporate environment. Many even let you access a remote PC from your phone or handheld device. Here, we break down exactly what a remote access app does, and why one may make a lot of sense for your increasingly mobile life.
What Is Remote Access Software?
Remote access software lets one computer view or control another computer, not merely across a network, but from anywhere in the world. You might use it to log into your customers' computers and show them how to run a program, or sort out their technical troubles. Or you can even use it to invite friends or clients to view your desktop while you run a demo for them. You can use the screen as a temporary whiteboard, drawing lines and circles that help friends or clients understand what you're doing on your machine or theirs.
Remote access apps also let you transfer files between two machines without using email or file-sharing services. You can use remote access to print a file stored on someone else's machine on a printer connected to your own machine. Your tech-challenged relatives can use remote access software to give you access to their machine so you can repair their mistakes or clear out malware. It's far, far easier to grab the wheel yourself than it is to try and talk someone through the process of troubleshooting their PC. And your high-tech colleagues can use it to collaborate on complex projects in real-time, complete with chat via text or, with some apps, voice.
Not Just for Help Desks
Corporate help desks are major users of remote access software, but these apps can be useful for anyone. I personally use it for three reasons: First, I can give tech support to friends by logging in to their machine, without going out to make a house call. Second, while on the road, I can connect to my home or office machine and find and view an ancient file that I haven't stored on a file-sharing service like Dropbox or Google Drive. Third, I can invite friends or colleagues to join me in editing documents in a more straightforward way, with easier communication than other online collaboration methods, such as the real-time editing features in Office 365 or Google Docs. You may have very different reasons for wanting a remote access than I do, but there's no doubt that they are quite handy.
I looked at five remote access apps that work easily between any machines running either Windows or macOS anywhere in the world. In addition to these third-party apps, Microsoft provides its free Microsoft Remote Desktop software that lets you access Windows PCs from other Windows machines, mobile devices, or a Mac, but not from Windows to a Mac. Microsoft's app lets you access any Windows version going back to Windows 7, except for «Starter» and «Home» versions, for which you'll need a third-party app. Apple offers its $79.99 Apple Remote Desktop app for accessing other Macs only—but that only connects to Macs running OS X versions 10.8 Mountain Lion or later.
I use Microsoft Remote Desktop from my Mac laptop when I want to run a program on a Windows desktop in another room in the same house, but only a full-fledged third-party remote access app lets me take full control of any machine anywhere—if the machine's owner wants to let me in.
Security Concerns
One of the first questions you may ask yourself when considering using remote access software is whether or not this is secure. If you've been using a PC for a while, you may remember pcAnywhere, which used to be the remote access software that was almost everyone's first choice. Symantec bought pcAnywhere from its original developer and eventually, after some major security breaches, stopped supporting it in 2014 and recommended that customers stop using it.
Some other remote access vendors have reported security breaches, but these seem to have been triggered by users who chose the same passwords for their remote access software that they used at hack websites—always a bad idea. Some remote access apps let you use relatively weak security if you choose, but they all encourage you to choose strong security, and our Editors' Choice products, GoToMyPC and TeamViewer, won't let you make an end-run around their security precautions.
What Remote Access Software Offers
We tested remote access software by installing each app or service on four machines: desktops running Windows 10 and Windows 7, a laptop running Windows 7, and a Mac laptop running macOS. We also installed each vendor's iOS-based mobile-access app for connecting to a Windows or Mac machine, though I wouldn't want to try running my desktop machine from a phone or small-screen tablet unless I were desperate.
All the remote access apps we tested provide the same basic features. They offer remote access to another machine that has the app's server software already installed; remote access can take the form of full control over the other system or mere passive viewing. All feature a shared clipboard (in some cases optional), so that text or images that you copy to the clipboard on one machine can be pasted into the other. All have a text-based chat feature. Each app provides file-transfer features via a standard two-pane file manager interface.
GoToMyPC and LogMeIn add the ability to drag and drop files between the local desktop and the viewer window that displays the desktop of the remote machine, but this feature works only when connecting to and from Windows computers. TeamViewer has a FileBox window into which you can drag files that will be accessible to both machines. LogMeIn, TeamViewer, and VNC Connect include whiteboard features for drawing lines in the viewer. For more on each remote access apps individual features, see the individual reviews, which are linked to below.
Which Remote Access App Fits You Best?
We focused on remote access software designed mostly for one-to-one connections, though it's possible with all these apps for more than one user to log in to a remote machine. If you're looking for advanced conferencing features like a whiteboard, you should probably look elsewhere, though LogMeIn includes a whiteboard feature that makes it work well as a basic collaboration app.
The vendors of some of the remote access apps we tested also offer a specialized video conferencing app that uses an interface similar to the remote access versions. For example, GoToMeeting is a conferencing version of GoToMyPC; Splashtop Business Access offers Splashtop Classroom; and TeamViewer offers Blizz.
Security features differ markedly among these apps. Some make it possible to provide access in a straightforward way if you choose to do so. Others require you type in passwords more than once and provide email verification before you can do anything useful. All let you customize security to varying degrees, and you should take a close look at the options that you'll feel comfortable using.
If you're a complete hermit who never leaves the room, you don't need remote access software. But if you often find yourself as the de facto IT tech for family and colleagues, or if you need to connect to other computers for your business, or if you need to connect to your own computers while you're on the road, then you'll need remote access software. Check out our reviews to find the one that best suits your needs.
Best remote desktop software of 2020: Free, paid and for business
All the best remote desktop software around today to access a PC and deploy software remotely.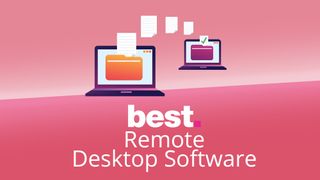 With the current spread of the coronavirus (aka COVID-19), a lot of companies are already seeking to make arrangements to accommodate remote working, to help reduce the spread of the coronavirus while also helping to limit the impact on productivity.
Also check out our feature on everything else you need to set up your home office.
The best remote desktop software allows you to quickly and easily access and control one PC from another, either over a local network or via the internet. This allows you to access and use PCs that aren't just in another building — they could be on the other side of the world.
There are a number of reasons why your business or company would want to use one of the best remote desktop software picks we have below. For example, you could use a PC in one office to access a PC in another one, to grab important files.
You could also use a powerful remote PC to handle complex tasks while showing the results on a lower-powered laptop. The best remote desktop software is also useful for IT admins, who can remotely take control of a PC to help identify and fix any problems.
The best remote desktop software is installed on the remote computer (the host) as well as on any other computer you want to use to access the host computer (known as the client).
While certain versions of Windows have their own built-in Remote Desktop software, there are a number of remote access tools that do a better job and offer more features.
Best remote desktop software — at a glance
1. Zoho Assist
Great range of features without breaking the bank
Zoho Assist is a cloud-based software platform that can provide remote support and remote access, in order to help provide IT support to end-user customers, or to help manage devices in an IT department.
The remote support service allows for on-demand connection without any need to pre-install software, by inviting users to connect directly via email. Unattended remote access can be set up inside and outside of your LAN, with mass deployment options available for both PC and Mac.
Whichever way it is used, various features are available, such as file transfer, voice and video chat, as well as rebooting remote devices without losing your connection to it.
Additional features include the ability of the software to auto-detect whether multiple monitors are used and display according to preferences, as well as being able to record sessions for quality and monitoring purposes, and even to organize remote computers intro groups according to function, location, or other parameters.
As well as being used for IT trouble-shooting, Zoho Assist lends itself well to training through screensharing, as well as for online video conferencing and other meetings.
There's a free tier that allows one user to connect remotely with up to five unattended machines, but features are limited and it's perhaps best considered a way to test the software rather than deploy commercially. The first paid tier unlocks most of the essential ones for $10 per month per user, and that's the same for remote support or remote access.
Further features are available in additional paid tiers for remote support, and Zoho Assist also integrates with the wide range of other Zoho products, not least Zoho Desk for CRM.
(Image credit: Future)
2. Connectwise Control
Power remote support and access
ConnectWise Control is a remote access manager that comes in two key options: Support, and Access.
Support is a cloud-based service that allows for the accessing of a user's machine in real-time, and is intended for anything from personal use to frontend helpdesk support services. The connection is made using AES-256 encryption as well as two-factor authentication, to ensure a very high degree of security.
The Support plan offers a number of all-in-one Support-Access-Meet packages, beginning at $19 per user when paid annually, and allows for one user to make one connection. Features include file transfer, remote printing, and remote meetings. The Standard plan allows for one user to run three connections, and includes additional features such as remote command line, as well as support for mobile guest sessions, and this costs $35 if prepaid annually.
The Premium Support service allows one user to make up to ten simultaneous connections, with video auditing, reporting dashboard, and a remote diagnostic toolkit also available, all for $45 a month when paid annually.
The second option, Access, provides an access-only service for the purpose of managing large groups of machines or a mobile workforce, and allows for users to access unattended machines by installing access agents. This comes provided with a central toolbox, remote command line access, and advanced reporting. Pricing varies according to the number of unattended access agents required, and starts from $100 per month (when paid annually) for up to 100 agents.
Overall, Connectwise offers a powerful remote access service that's easy to use and deploy, and provides a good range of extensions.
Remote access software, free remote desktop software, remote administration Windows
LiteManager Pro/Free — remote access software for remote administration of computers over the Internet or remote control in a local network, for distant learning, providing remote support to users and supervising work activity of employees.
The program allows to quickly and easily control computer desktop in real-time mode with full support for Windows, provides secure remote access to the file system, processes and services of the remote computer. LiteManager has built-in tools for creating network map, collecting technical data, ability to deploy and update using remote installation services, configure private ID router (NOIP) and many other features. Classroom management software.
Remote administration is now possible without IP address. Using Connect by ID mode, you can choose your personal unique ID by yourself and connect by it. Client and server modules of the program can work in networks connected to the Internet via a proxy server. LiteManager remote access software, remote administration.
Download (for Windows, build 4947)
LiteManager.apk / Google play (Android)
LiteManager (app, pkg) / App store (Mac OS)
App store (iOS, iPhone, iPad)
LiteManager Linux (Linux)
Wine (emulator for Linux, Mac OS)
Only one time fee and all updates are free, lifetime license and technicians unlimited. More information on buying LiteManager…
Free version of remote desktop software that includes key features and allows you to control up to 30 computers simultaneously free of charge! and more computers if you have a license key. Remote desktop without limits on session time and speed.
This version is available free of charge for both individuals and legal entities.
You can use the program to provide technical support for users. The ability to configure your own connection by ID server (NoIP) ensures completely autonomous and independent operation, and as a result, the operation of the whole technical support service.
Main features of the Free version and its key differences from the Pro version are shown in the table LiteManager Free remote desktop software, remote control.
LiteManager QuickSupport optimized for instant support does not require installation or administrator rights — simply download and run it.
ROMServer.exe (Server without installation) (for remote user)
ROMViewer.exe (Viewer without installation) (for administrator)
ROMServer.exe (without administrator's rights) (for remote user)
LiteManager portable generally comprises all the features of the full version without the need to install anything, portable runs directly from a USB stick. More about portable version.
Advantages of our product:
You can control and view the desktop of a remote computer. Remote Desktop control.

You can use Drag&Drop function, system clipboard, Copy&Paste function, switch between the monitors and users working in different terminal sessions. There is support for graphical shell of Windows 7 Aero which doesn't turn off when connection is established. The program can work in economy mode to decrease the network traffic consumption.

File manager for working with files and folders.

It allows browsing the file system, copy, delete, run and open files for editing and offers a tab system for faster navigation. File manager can transfer data between two connected computers.

Remote task manager

It allows you to control processes and services, view information about running programs, launch and stop them. Task manager also displays information about connected users.

Power management

This mode allows you to restart or turn on a computer by using Wake-On-LAN function. You also can turn on, turn off or switch a monitor to the standby mode.

Text chat and audio and video chat

You can communicate with users in a text chat. You also can send a message to a user in the form of notification. Audio and video chat for communication via a microphone and webcam. The chat can work in dialog, broadcast or audio and video capture mode.

Telnet control of computer via command line.

Connection in the form of command line, you can work as a user or as a system.

Device manager and inventory.

It allows to quickly and easily collect information about installed hardware and software.

Screen recorder.

Independent desktop recording into a video file. It is a convenient and efficient tool for controlling working time of employees.

Network map.

You can create a topology map of your network with all equipment to facilitate the administration process. The map is fully interactive with the ability to connect and configure connections.

Connecting a server with a dynamic IP address and cascade connection functionality that allows to work in complex networks.

Using «Callback connection» or «Connect by ID» functions you can connect to computers that are not accessible in the Internet. Cascade connection allows you to create a connection to a LM server via another LM server. The program can be used through a proxy server.

Remote installation and update.

Several methods of program installation by means of built-in Windows tools, MSI and program's auto update function. A server can be configured before installation.

Server search.

This feature allows finding computers both with installed server side components and without them, after which you can add them in the main list.

Registry editor.

Connecting to the registry with ability to edit data as well as to import and export registry keys.

Connect by ID and NoIP application.

Using «Connect by ID» mode you can connect to computers without IP addresses and specify a convenient ID by yourself. Additional application NoIP ships with the program and allows to connect LMViewer and LMServer without an IP address and to configure your enterprise server of ID connections. NoIP can also be used on UNIX systems running Wine.
The full list of LiteManager features and screenshots are provided below.
QuickSupport optimized for instant support.
Connect by ID. How to establish a connection by ID.
Overview of solutions for corporate and home users.
OnLine program help is now available on the website.
Answers to questions official FAQ.
Knowledge base for LiteManager.
Reliable remote desktop software for unattended access.
Get secure remote access to network computers and servers. Employee monitoring feature allow managers to watch over users activity while employees are left alone.
Provide instant tech remote support.
Provide remote technical support for individual or commercial users via LiteManager, 24/7 help desk support for daily computer issues.
Classroom management software.
Effective software to help teacher and students in daily classes. LiteManager demonstration — share your screens and display your presentations on student computers.